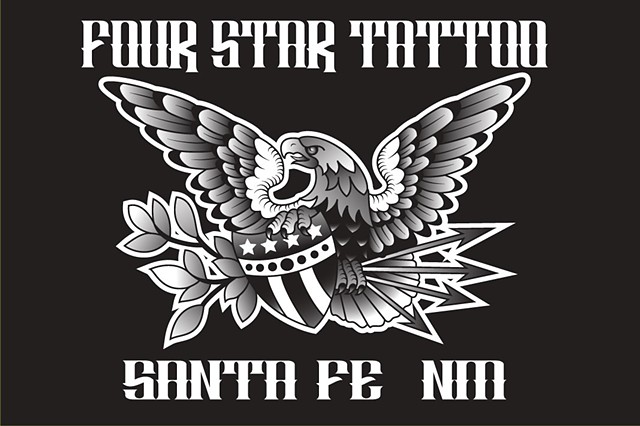 Welcome to Four Star Tattoo, Inc., Santa Fe, NM's oldest and finest custom tattoo shop. Our expert and friendly artists specialize in small to large-scale, custom tattoo designs. We provide exceptional customer service along with unmatched quality. Whether you are looking for a small custom or flash art tattoo, need to cover-up a botched piece, or if you are looking to get a large-scale tattoo, you are at the right place. A tattoo stays with you forever, so let Four Star's expert artists give you a quality piece of art you can be proud of!
Mark Vigil-Owner/Artist/Tattooer
Scott Buffington-Artist/Tattooer
J Green-Artist/Tattooer
Jennifer Billig-Artist/Tattooer
Miguel Chavez-Apprentice
Shop hours:
Mon-Sat 12 to 8 pm
Sun 12 to 6 pm
825 Topeka St
Santa Fe, NM 87505
505-984-9131
Must be 18 or older to get tattooed.
Local appointments must be made in person. No appointments or cancellations will be made over this website. We require a non-refundable cash deposit for all appointments.
Walk-ins welcome, appointments preferred.